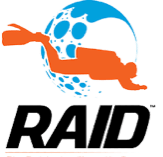 Instructor Open Circuit
Prerequisites:
• To be a minimum of 18 years old.
• Have a diving medical not more than 6 months old signed-off on by a licensed medical practitioner.
• Completed and passed RAID Open Circuit Open Water, Advanced 35, Master Rescue and Instructor Academic Sections Quick Quiz and Exams.
• To be certified as a RAID Divemaster or equivalent certification from a recognized training agency and/or complete, to the satisfaction of the instructor, the minimum in water open circuit Divemaster skills.
• To have a minimum of 100 logged underwater hours on Open Circuit.
• To submit a RAID Master Rescue certificate, and/or equivalent and/or complete, to the satisfaction of a RAID Instructor Trainer, the in-water skills of the RAID Master Rescue Course.
• Submit a current Rescue Breathing/CPR/BLS Training and Oxygen Provider Instructor certificates. (DAN/equivalent).
• Documented proof of pre-requisite requirements needed to be presented to the RAID Dive Centre and Instructor Trainer for approval prior to any in-water training.
• Complete an Instructor Development practical program with a RAID Instructor Trainer or RAID Instructor Examiner.


Divers choose to become a RAID Dive Instructor for a variety of reasons. For some, gaining their RAID Instructor qualification is simply about being able to share their passion for diving with others. For many, it's a ticket to dive around the world while being paid to do so. For others, it is about achieving a goal to reach the pinnacle of their chosen activity. A RAID Instructor certification can open the door to an exciting new career or simply enhance your enjoyment of diving.

What makes RAID the best choice for dive instructor training?
RAID has taken a different approach, and we believe a much better approach, to dive training than other diver training agencies. We believe, and the evidence strongly supports our position, that training standards need to be raised. We believe this begins by making far better instructors. So if you truly want to be the "best of the best" then RAID is the choice for you.
It's not a case of it being a much more difficult path or even a much longer path just in our opinion ensuring you are prepared to take the responsibility of training people to dive safely and be able to work with dive facilities that put the quality of dive training above everything else.
RAID does not believe in going back to the "good old days" when it could take months of training to become a diver but we do believe divers should spend more time perfecting skills in the pool. For example, we believe that something as simple as raising open water training time from just 80 minutes to 120 minutes will make a big difference to diver safety.
As a prospective instructor, you know how long you can spend getting a diver comfortable in those first few dives and how invaluable an extra 40 minutes in the water will be to consolidating skills. Especially when buoyancy control and other essential skills have already been perfect in the safety of a pool.
As stated it's not so much about difficulty of training (although there are additional pre requisites) but the focus and methodology of training. For example as a RAID instructor your buoyancy control will be exemplary, if it's not now we will train you to ensure it is. The Divers Alert Network (DAN) reports poor buoyancy control is a major and unacceptable risk to diver safety and that is why RAID has put so much focus on this skill and getting it right from the start.
https://www.diversalertnetwork.org/medical/articles/The_Ups_and_Downs_of_Buoyancy_Control
We do require significantly more in-water hours than most other diver training agencies. That is, we require 100 hours which is about twice the time of other agencies. We believe you need this level of experience to be truly confident as a dive instructor.