Open Water Diver
12 years or older.
Able to swim; medically fit for diving.
During the PADI Open Water Diver course, you'll learn what you need to know to explore the underwater world using scuba. Most people find it a rewarding challenge.

The PADI Open Water Diver course includes three parts: Knowledge Development, Confined Water Dives, and Open Water Dives. Knowledge Development covers the principles, concepts and terms you need to know for dive safety and enjoyment. During the Confined Water Dives, you learn and practice scuba skills in a pool or water with pool-like conditions. You'll enjoy making one or more minidives, which take you through the same steps you follow when you make open water dives. To complete training you practice, apply and demonstrate what you learn during four Open Water Dives at a local dive site.

Earning a PADI Open Water Diver certification shows that you met the course requirements. Dive centers and resorts require proof of certification before they will rent scuba equipment, fill scuba cylinders or book dive excursions. As a PADI Open Water Diver, you'll be trained to a maximum depth of 18 metres/60 feet, and are qualified to dive in conditions as good as, or better than, those in which you trained. It's just the beginning of a lifetime filled with dive adventures.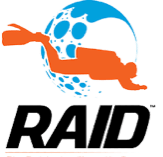 Open Water 20
You must be 12 years and over.
Be in good health.
Get Scuba Certified in 3 Steps:
1. Study & Pass the online course
2. Complete Water Skills Training
3. Go Scuba Diving!

Who is this course for?
The Open Water Diver Course is for anyone looking to Learn to Scuba dive and obtain a scuba diving certification.

What Do I Get With This Course?
Graduates will receive the RAID Open Water 20 or Scuba Diver electronic certification allowing for open water dives. RAID certifications are recognized and accepted world wide.

Completing the Water Skills Training
While you are completing the online course your dive Instructor will coordinate a time for you to complete the water training portion of this course.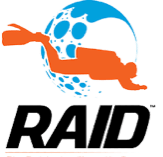 Junior Open Water
Swim comfortably and perform.
Be between 12 to 14 years of age.
To train students that when evaluated by the RAID Instructor are deemed to have sufficient knowledge, skills and experience to dive with an adult buddy diver of at least the same level of certification or higher in Open Water conditions like that in which their training was conducted in or better, without supervision of a dive leader (scuba Instructor/Divemaster).

Complete the following:
Online e-learning or mobile APP academic presentations, quizzes, exam.
Before any Open Water diving the student must perform and demonstrate to a RAID instructor
A ten-minute survival swim/float without the use of mask, fins, snorkel, or other swimming aids Distance swimming capability by one of the two following methods:
swim 200 m without the use of mask, fins, snorkel, or other swimming aids;
OR
swim 300 m using mask, fins and snorkel without other swimming aids.

If conditions warrant students may wear a diving suit provided they are weighted for neutral buoyancy

Complete course over a minimum of two days and totalling a minimum of:
2 hours logged underwater in Open Water.
4 Open Water dives
The open circuit gas for the participant is Air. The Nitrox Speciality may be combined with this course, provided the Nitrox certification is completed after the SCUBA Diver or Junior SCUBA Diver certification.

DEPTH LIMITATIONS
10 to 11-year old: The maximum depth of 12 metres / 50 feet
12 to 14-year old: The maximum depth of 20 metres / 60 feet